Highland Primary Early Childhood teachers:
Lynn Wilke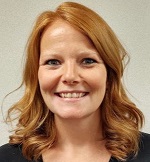 Hello! My name is Lynn Wilke, and I am the Early Childhood teacher here at Highland Primary. Teaching is one of my greatest passions and I love that I am able to share it with the kiddos in my class. I graduated from SIUE with my bachelor's in Early Childhood Education and Special Education Letter of Approval in 2016. Since then I have taught in a blended preschool program and now in an all inclusive early childhood program.
I live in Aviston with my husband, Adam, and daughter, Aris. A few of my favorite things are pizza, ski, garage sale shopping, reading, the color purple, and snuggling my daughter.