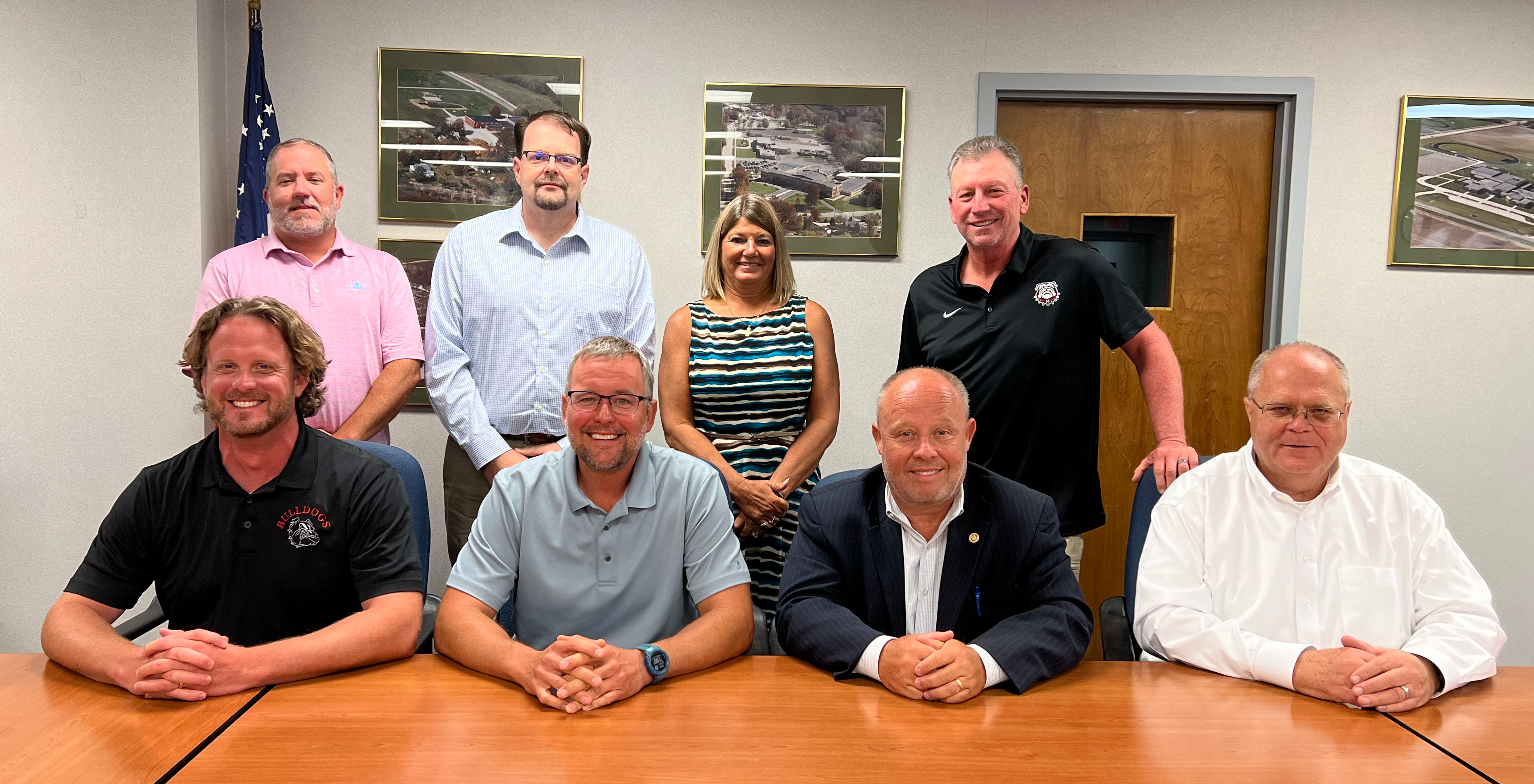 Front Row: Zach Lewis, Vice President, Aaron Schuster, President, Mike Sutton, Superintendent, Jim Johnson. Back Row: Jeff Schaible, Chris Goodwin, Lora Miles, Steve Lanxon.
I am a retired high school assistant principal and athletic director after serving 30 years in Highland. I have a Master Degree in Educational Administration and have teaching areas in History and Physical Education. I came to Highland as a teacher at St. Paul High School and after the school closed was hired at Highland High School teaching several levels of History and coaching Football, Basketball, and Wrestling. I also served as the Social Studies Department Head and Class Sponsor. After 10 years of teaching I was hired as an administrator at HHS in charge of Student Activities, Vocational Education, and Special Events. I added Athletic Director duties in 2006 and served until retirement in 2015.
I am married to Jan and have 3 grown sons who are all married. I have 5 grandchildren in the Highland School District.
I look forward to serving the citizens of the Highland Community during these challenging times!
Was born and raised in northwest Illinois and moved to Highland in 2005. Married to Abbey Schaible and have 3 daughters, two of which are currently in the Highland School District. Being a member of the school board has always been something that I have wanted to do. My mother has been a board member back where I grew up for 28 years. My main focus is on student achievement and implementing policies that will ensure the success for all students, they are our future. If not working or running kids to different sporting events I enjoy golfing, hunting and spending quality time with the family.
A resident of the Highland community since 1982. Lewis attended Highland Community Schools, graduating from Highland High School in 1998. After High School Lewis attended McKendree College (now McKendree University) where he earned a Bachelor's Degree in Business Administration. Mr. Lewis also attended Southern Illinois University at Edwardsville, earning a Bachelor's Degree of Science in Engineering. Lewis has lived in the Grantfork and now Alhambra areas for the past 10 years and his two children have attended those Highland Center Schools. Lewis enjoys sports, traveling, boating, and attending his children's sporting activities. Mr. Lewis was elected to the board of education in 2017.
I was born and raised in Highland where I graduated from Highland High School in 1997. I earned my bachelor's degree from SIUC in automotive business management and am currently in pursuit of a master's degree in school administration. I have been fortunate enough to teach automotive technology for the past 15 years at both the high school and college level. I still enjoy automotive, from hot rods to the newest technology. I enjoy spending time with youth that have the same interests, and I am very much an advocate of teaching technical skills to our kids. In my spare time, I enjoy fishing of all types but am particularly fond of bass fishing and tournament fishing. I am married and have been blessed with two boys, with whom I spend the majority of my free time.