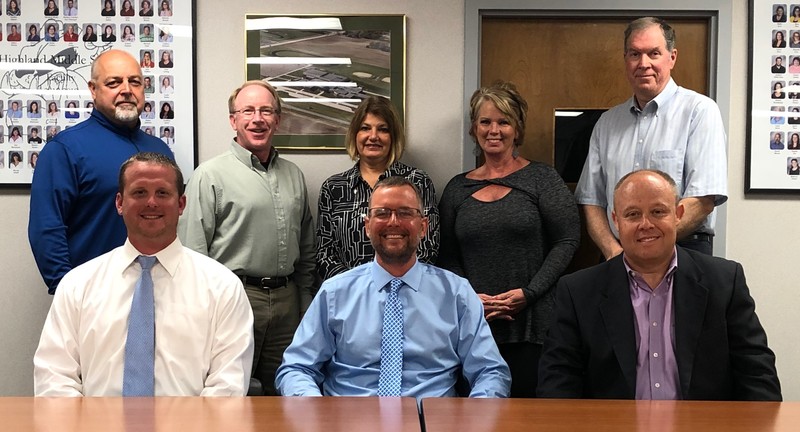 Front Row: Zach Lewis, Vice President, Aaron Schuster, President, Mike Sutton, Superintendent Back Row: Joe Mott, Robert Miller, Lora Miles, Rene' Friedel, Jim Gallatin
Jim Gallatin

A resident of the Highland community since 1978, Gallatin is a graduate of SIU Edwardsville where he earned his Bachelor's Degree in Elementary Education in 1975 and Master's Degree in Educational Administration in 1985. His four children attended Highland Community Schools during his 31 year career as an elementary teacher, principal, and coach for the district. Gallatin enjoys music, golf, traveling, and referees volleyball in his spare time. He and his wife Suzanne reside in Highland. Gallatin was elected to the board of education in 2013.

Joe Mott


Was raised in Springfield, Illinois and while serving 6 years in the Illinois National Guard, attended LLCC and University of Alabama specializing in Business Management and Aeronautics. Joe also served several tours of duty stateside and overseas. He moved to the wonderful community of Highland in 2005 and is married to Shannon Mott with 3 Children, all of whom attend Highland schools. He was appointed to the board in 2014 and then reelected in 2015. Joe enjoys spending time with his children, community charitable endeavors and yardwork.

Rene' Friedel

Originally from St. Louis, moved to Highland in 1995. My husband and I raised our 3 children in Highland, all are graduates of Highland School District. We also have 2 beautiful granddaughters, Charley and Rhyan. I have been involved in our community since we moved here. A member of St Paul Catholic Church. I was a member of the Grantfork PTO for 6 years and then proceeded to be appointed to the board during a vacancy. Have served the Board of Education for Highland School District for 14 years, entering my 15th year. For the past 22 years I have spent my time raising my children as well as advocating for many different volunteer and not-for-profit organizations. I enjoy time with our family and friends. Love home and yard projects as well as spending time with my 2 Golden Retrievers.

Zach Lewis, Vice President

A resident of the Highland community since 1982. Lewis attended Highland Community Schools, graduating from Highland High School in 1998. After High School Lewis attended McKendree College (now McKendree University) where he earned a Bachelor's Degree in Business Administration. Mr. Lewis also attended Southern Illinois University at Edwardsville, earning a Bachelor's Degree of Science in Engineering. Lewis has lived in the Grantfork and now Alhambra areas for the past 10 years and his two children have attended those Highland Center Schools. Lewis enjoys sports, traveling, boating, and attending his children's sporting activities. Mr. Lewis was elected to the board of education in 2017.

Robert Miller

Moved to Highland in 1999, shortly before retiring from the U.S. Air Force after 20 years of active duty military service. He possesses Masters Degrees in both Business Administration (MBA) and Security Management. Mr. Miller brings a perspective to his position from having worked or traveled to all 50 states and 26 countries around the world. He received his Illinois Teaching certification from McKendree University in 2006 and currently teaches computer technology and robotics in another district. He has been happily married for over 30 years and both of his kids are successful products of Highland's K-12 educational system. Mr. Miller is a member of the Veterans of Foreign Wars (VFW) and was elected to the board of education in 2015.




Aaron Schuster, President

I was born and raised in Highland where I graduated from Highland High School in 1997. I earned my bachelor's degree from SIUC in automotive business management and am currently in pursuit of a master's degree in school administration. I have been fortunate enough to teach automotive technology for the past 15 years at both the high school and college level. I still enjoy automotive, from hot rods to the newest technology. I enjoy spending time with youth that have the same interests, and I am very much an advocate of teaching technical skills to our kids. In my spare time, I enjoy fishing of all types but am particularly fond of bass fishing and tournament fishing. I am married and have been blessed with two boys, with whom I spend the majority of my free time.